Evo Acquisition, a blank check company targeting the tech and financial industry, on February 9th raised approximately $109 million.  Following the surge of IPOs by other black check companies, Evo Acquisition plans to list on the Nasdaq under the symbol of EVOJU. Evo Acquisition is a special purpose acquisition company (SPAC), which their sole objective is to acquire startup companies rather than owning their own commercial operations. As an alternative name "blank check company" suggests, a SPAC is not an ordinary type of company; and it has gain popularity over recent years.
SPACs generally collect capitals from their investors through utilizing the reputable foundation of well-known private investors and sponsors, whom are part of the management, in order to buy companies. As a general rule, capitals raised through an IPO are placed in an interest-bearing trust account and cannot be accessed by the SPAC until an acquisition deal is made. In case there were no deals made two years after an IPO, all of the money will be returned to investors and the SPAC will be liquidated. In most cases, however, the founders have identified their targeted sector at the time of IPO. Therefore, SPACs rarely get liquidated. Evo Acquisition has been speculated to acquire either Japanese tech or finance companies.
SPACs are Growing Exponentially and Raising Millions
Although SPACs have become more popular recently as large corporations, like SoftBank, have been supporting some SPACs to be listed on the Nasdaq, such companies have been around since the 90's. As it is shown in the figure below, there was only one IPO in the 2009 followed by the 08' financial crisis; and the numbers hovered around 10 IPOs until 2017, where there was a dramatic increase. Cases of SPAC IPOs grew exponentially in 2020 with 248 cases, and their fundraising has reached a total of $ 83billion. The SPAC market continues to skyrocket in 2021 with 118 SPACs going public and over $35.4 billion has been raised in total as of February.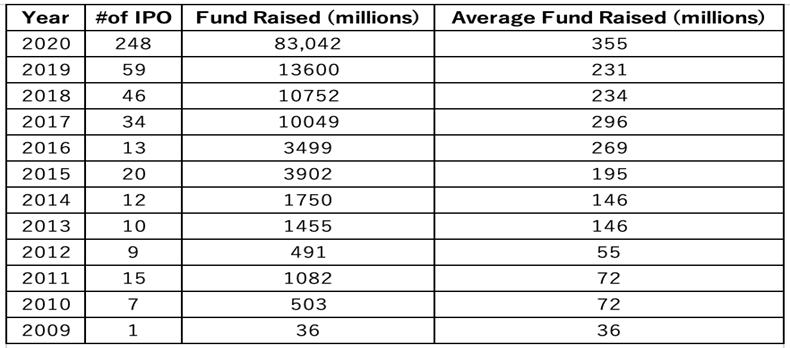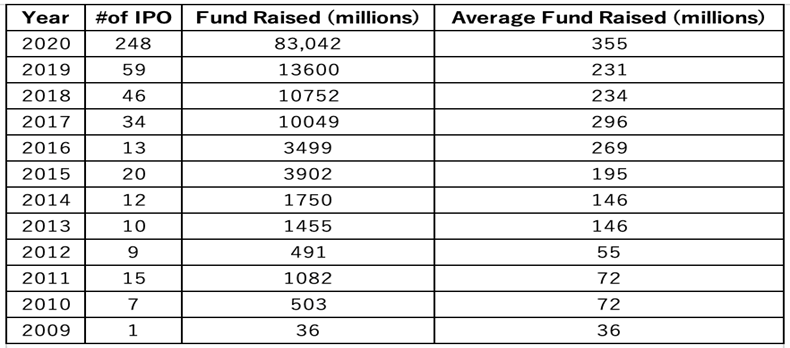 SPACs' Influences on Japanese Startups
It has been reported that Evo Acquisition's IPO will be managed by B. Riley Securities and SMBC Nikko Securities INC. Furthermore, these SPACS will open many doors to Japanese startups, who are seeking various opportunities to expand their businesses in the future.
Evo Acquisition's Form S-1 can be accessed here.
 The financial statements have been released and audited by KPMG, although it had been existed for only 3 weeks at the time of deadline and since its establishment on November 20, 2020.
Moreover, Evo Acquisition is not akin to a typical public company since it has no cash under their possession and only a small sum of offering costs and expenses are listed on their balance sheet.
Questions and Answers about our Service
If you have any questions about our service, feel free to reach out.
Even if you currently have an auditor, we are happy to discuss and answer any questions that you may have.